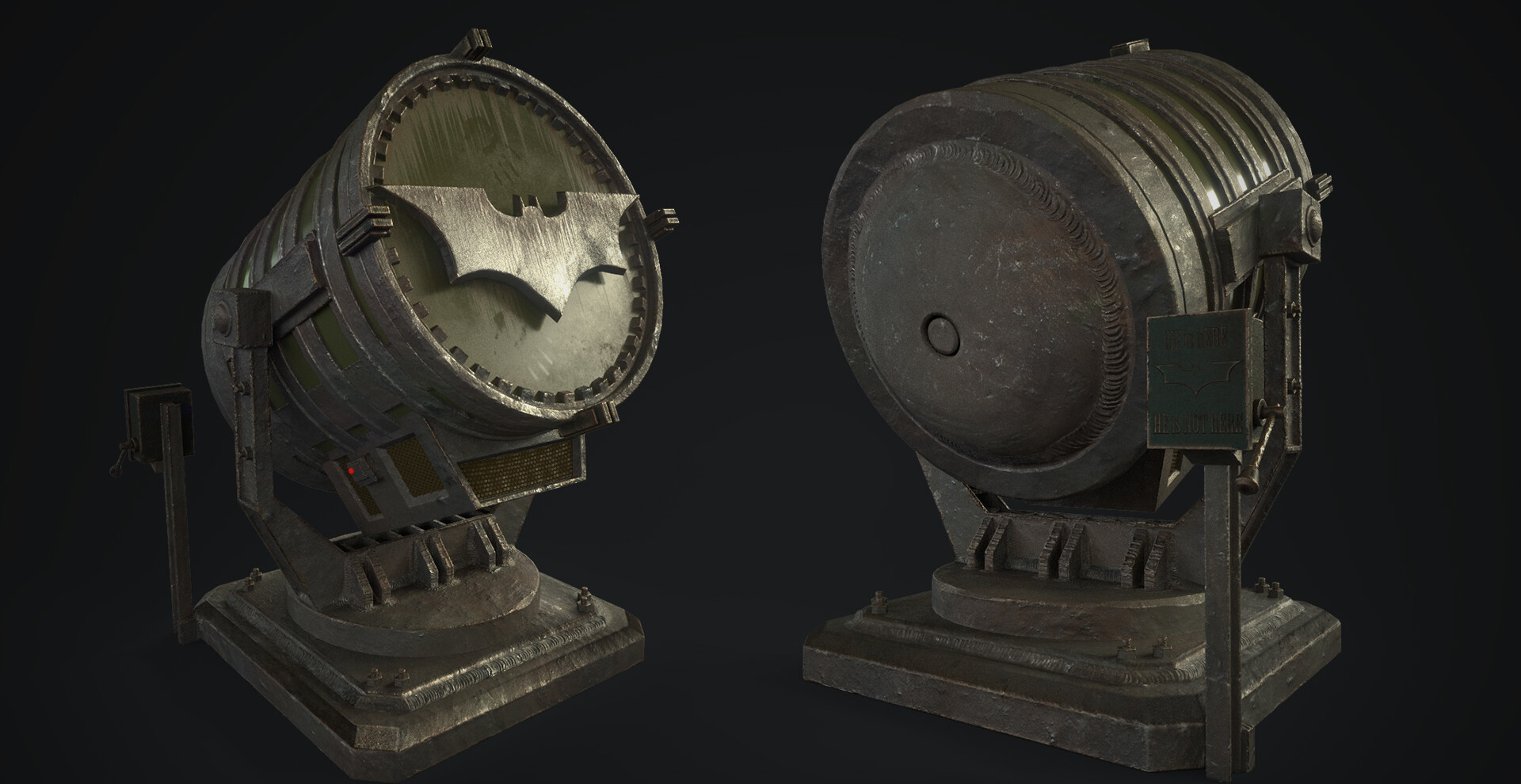 Reference
So, whenever I start working on a new project, I start collecting reference images of similar assets, so that I can be clear on how the model looks, and gather details for the sculpting. In this case, I did a search on Google and Pinterest for Batman's Signal light. I also watched scenes from The Dark Knight as this film has many scenes in which they have show this light.
Modeling Process
When I start working on a Prop I block the model out in either Maya or 3ds Max. In this case, I used Maya for blocking the model. The kind of process I use to model is to block the model then add details required in low poly and then I take it further to create a mid poly model so that I can use it in Zbrush for sculpting. And that mid poly model can be used as the final model which goes for texturing.
After this comes the high poly modeling. For this I always use Zbrush. I love working in dynamesh as it gives you more flexibility in creating and modifying shapes. I used a welding brush set which I bought from Artstation.com.
Baking Process
So when I was done with high poly modeling in Zbrush I get back into Maya for creating UVs and if the silhouette of the model has not changed drastically when in Zbrush then I always use the mid poly version I created before. In this case, the silhouette was not changed that much so I used the mid poly version and created UVs for it. When working in UVs everybody should always use checkers so that there will be no stretching textures. I have always liked Maya for baking normal maps as it gives you normal maps with no artifacts.
Texturing Process
To be true I am an old-school guy who loves working in Photoshop even when it comes to PBR texturing. But in this case, I used Substance Painter because substance gives you the ability to view how your textures on 3d model side by side.
Rendering Process
For rendering the final images of the Bat-Signal I used the renderer provided by Substance IRAY Renderer.
To render the high poly image I used KeyShot.
Final thoughts
I know this Bat Signal model is not perfect. But I tried to show some good art sense in this model. Being in the gaming industry for around 6 years I feel privileged to always be surrounded by world-class artists and I always try to learn from them. So thanks to all the great artists I have worked with and thank you all for your time you gave to read this article.
To see more of my artwork please follow me on Artstation.