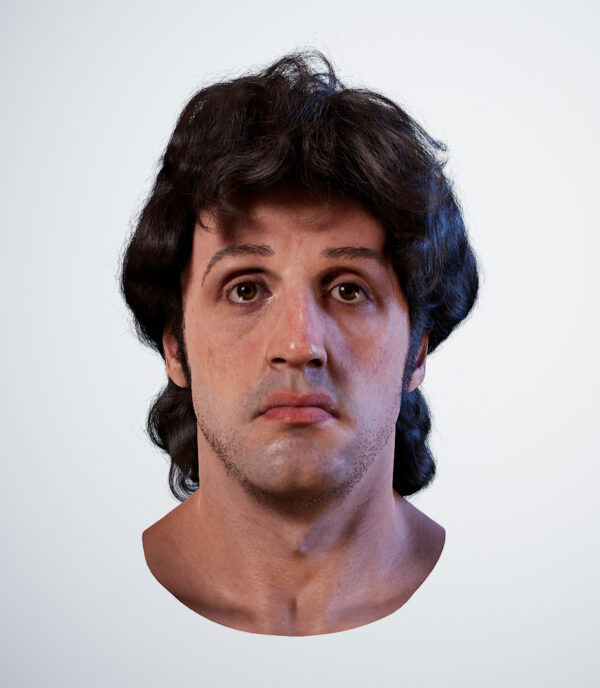 References, inspiration & early work in progress
First of all, I knew this project would be about likeness and anatomy, that was the goal. A little tip, before we move forward.
There is nothing new when I say that Scott Eaton is still number one if you have trouble with facial anatomy. Definitely try out his courses.
I want to represent all of my skills, including hard surface modeling, likeness, anatomy and hair, all in one project.
Here is the M60 Machine Gun I made before, especially for this project. It took about 2 weeks.
Face
First of all, if you want to sculpt a celebrity, you should spend a little time finding his\her life cast mask. It helps you with other information like albedo, hair, etc.
In my case it looked like this:
This is a very good amount of ref to start with.
I don't want to describe the whole process of sculpting because it's boring. All I want to say is that I started with a base mesh instead of a sphere and it took about 4 days before I reached a likeness like the image below.
As you can see there are only primary and secondary forms on my sculpt.
For this case, it's ok because of all the small shapes I can grab from the Vface XYZ head. It saves me a lot of time.
You can sculpt all small details like pores, skin folds and wrinkles especially if it's an old man.
But if you have a case such as a young man or woman or child may be secondary forms will be enough.
https://texturing.xyz/collections/vface
Below I wrapped the face bust with the Zwrap plugin.
To do the wrap operation correctly you should remove all the polygons in the inner eyes area and the mouth bag.
After adding the displacement map its looks like this:
Here is a link to do the displacement map correctly.
And finally, after several cosmetic operations with an albedo map (removing moles, adding beard, etc) and baking normals (Marmoset Toolbags), I got the final head with all the textures that I need.
Hair
I think everyone familiar with the Xgen and of course with his unstable work).
I use XGen to create hair on this character there is nothing new.
Just watch Hadi Karimi video on youtube to do more realistic results. The biggest reason I used XGen was that I use the .abc format which can be exported to UE5.
You can see the final result on the renders. The only tip I can share on this topic.
Lighting
For lighting the scene, I use simple direct lights. The main direct light looks like this:
Soft upper light to catch some highlights on a hair:
Soft ambient light to make shadows smoother. It has warm color a little bit.
One bright light that affects the background plane and fills it with white color.
One bluish light brings the contrast to the skin tone color and brings more volume to the scene.
There is no classical rim light because the background fills with white.
We just didn't see any rim effect in a scene like this.
And this is the final result:
Unreal Engine 5
Now, let me talk about Unreal Engine 5 because I really think it's a great tool to do your projects in.
If we talk about real-time rendering I think UE5 is more handful & useful than Marmoset Toolbag.
You can easily construct an environment scene for your project and use the awesome node system in UE5. Node shaders have many functions that give you a lot of control and are incredible.
For the skin shader for this project, I used the awesome work of Nick Rutlinh. His Uber_skin_material is so flexible in many aspects like roughness, normals, micro details, vellus, etc.
Here's the link to his Artstation.
Each of these parameters can be easily changed depending on what you need.
For the eyes of my character, I simply used metahumans eyes.
Conclusion
You will always struggle for time on your own projects because of work etc, but the prize you can get from completing it, is huge!
Before this project, I had never used Unreal Engine. After, I could not live without it.
Thank you for reading and if you would like to see more of my work or ask any questions, you can find my ArtStation here:
https://www.artstation.com/pavelhcd