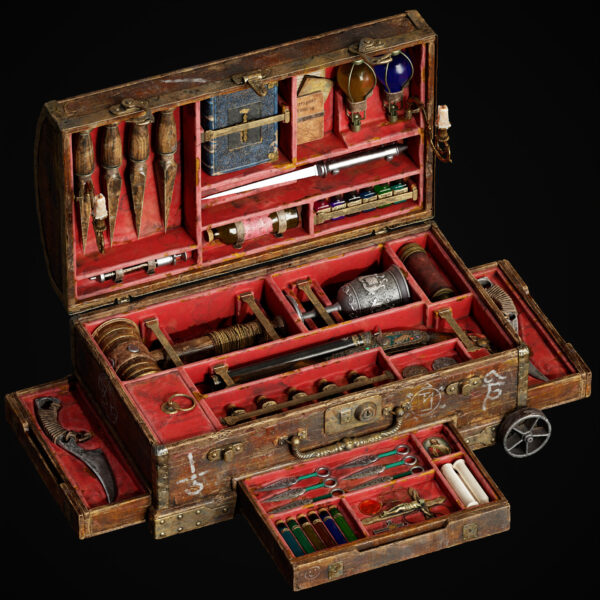 Goals
I knew I wanted to make a prop, but at the same time, I was not looking to make just a regular prop, I wanted to create a collage or something with a bit of story and complication to it, as a big fan of supernatural, I wanted to make something that had a mix of those things. Thus, I started the project, keeping a supernatural, hunting theme.
The Software I used was Maya, Zbrush, Substance Painter and Marmoset Toolbag 4.
Reference & Inspiration
I didn't have any concept for the prop, instead, I collected lots of different vampire kit refs and added them into the Pure Ref, from there I created something of my own,  taking the best of what I felt among the different ref and making a sort of mix and match, whilst adding a few things of my own on the fly.
Blockout & Modelling
So for this project, since it has lots of smaller props, I started out with blockout, part by part, then I arranged them out as I wanted in the scene, this process is important and I took a good amount of time to iterate what I wanted in the scene, once I had everything blocked out, I started ZBrush up and did a pass for them one by one.
Sculpting/High Poly/Low Poly/Topology
For the sculpting, ZBrush is always my main choice, I started with the chest, then one by one moved on to making the other Highpoly assets. Some were simple so I just made the highpoly in Maya only.
For the cloth part, which is attached to the interior of the chest and acts like a cushion to the props lying on them, I used Blender. I then exported the blockout props to ZBrush along with the cloth blockout, with added proper subdivision I then used the Blender cloth simulated brushes to get the desired result. It's quite a good tool and is very quick. After that, I retoped the cloth part and made its LP.
For the chest LP, I just decimated it and used Rizom UV for UVing since it's an excellent software for UV dense, triangulated meshes – for instance, a decimated mesh. It is a must-have tool for an artist I would say.
The rest of the props were simple, with nothing special about them. For the coins,  I simply took the ref I was using and put them in a Substance Sampler and created a height map, then used the height map on cylinder proxy with proper subdivision to create a HP and then decimated it to make LP.
UVing
Each prop has its own UV set, bottles share 1 UV set, chest 1, and the rest of the props also, 1.
Nothing special for the decimated meshs, I used Rizom UV and then the rest were done in Maya, I then did an auto layout to have them arranged properly, with good texel density.
Baking
For baking, I used Marmoset toolbag, since it's fast and has adjustable cages amongst other features, it's a very powerful tool for baking. Just make sure the naming of Highpoly and Lowpoly is correct and parts that are going to be animated are separated so no unwanted AO bakes onto them.
Materials & Texturing
Now comes the exciting part, texturing, import all of the baked maps inside Substance Painter, and assign them to texture slots. For my materials, I had my other, ready-made smart materials so I used those and adjusted them as per the look I want.
I have a habit to keep updating my smart materials for every project so I don't have to redo them again. Using masks and generators are very powerful so I get a general look from them and then use manual painting on them to break up the repeating patterns, this is very important, don't just rely on general generators, use generators and then multiply some with grunge fills later to break it further and then do manual painting if needed to break it even more.
Keep roughness subtle so that on odd angles it doesn't look bad and weird or overly exposed, same goes for colors, keep checking its PBR values. Try to give some story to your wear, damage and dust effects, this will give some genuine feel to your asset.
And do use  ACES_UE4_log Color filter, a quick google should tell you about it. I went one by one to each prop and did a very generic pass, I then have them all arranged and rendered in proper lighting setups in Marmoset, then I started adding other details to get a real-time update on how each layer or pass is behaving, I feel it's important to regularly check your changes when you add something new to the material to see how it behaves.
I spent the most time on the Wooden Chest, I took my sweet time to make the wood, I think spending a good amount of time and not losing focus is the key, the process is generally quite generic, its just how we regularly check it with each growing layer, regular tweaking and checking will really effect the output.
Lighting & Rendering
For lighting my go-to software is Marmoset Toolbag 4, with the introduction of real-time Raytracing, has become more powerful. For the background, I used a solid off-white color and also took the table, bones and skull from Quixel to add more story.
For HDRI I used Tomoco Studio. For the Render and camera setting, I have attached an image that would explain better (below). For lighting, adding an HDRI does a major job, on top of that, I added a bright backdrop spotlight for the Rim effect and front and side light for additional light with shadows off.
After I have my desired lighting result, I created duplicate cameras and locked them on various angles so I  don't have to adjust them again. Then I took renders, another tip is to also try and create an awesome thumbnail for your artwork, that's what's going attract a crowd.
Conclusion
So the main pointers for this asset were to do things on my own without much of a concept and to iterate it to my liking, I wanted it to feel like a genuine hunting kit with various elements taken across my favourite genre, Supernatural.
I hope you enjoyed this article, please follow me on my ArtStation for more work or if you have any questions.