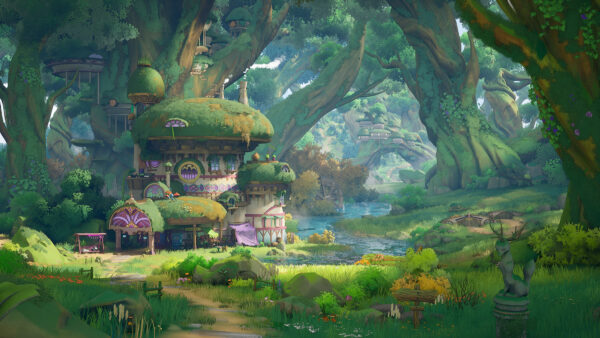 Inspiration
The work I present to you today is a restoration of this painting by the artist 夏言JA.
You can find his art on ArtStation at this link: https://www.artstation.com/artwork/49o0k4.
When I first saw this 2D painting, I was deeply moved by the depicted scene. The composition of the picture was impeccable, with every element meticulously designed, devoid of clutter, and the color scheme was harmonious. I immediately decided to recreate it using 3D software.
Software
3DMAX: Used for low-poly modeling and modular grouping.
Substance Designer: Utilized for programmatic material generation.
Marmoset Toolbag: Employed for baking various textures and painting textures in SP.
ZBrush: Utilized for high-poly sculpting.
Marvelous Designer: Used for fabric solutions within the scene.
Substance 3D Painter: Applied for material rendering on the model.
Unreal Engine: Employed for the final composition, lighting performance, and rendering.
References
This was my first foray into stylization. Before choosing the original painting, I closely observed stylized works by artists from around the world on ArtStation, who created various astonishing pieces.
As my first venture into stylization, I spent a considerable amount of time searching for reference drawings, whether they were individual buildings, trees, stones, or flowers. I tried to incorporate these elements into my scene.
I would like to extend special thanks to Victoria Zavhorodnia for her tutorial, which served as a great source of inspiration for creating plants.
Blockout & Modelling
During the blockout stage, I noticed that the perspective of the original painting was not overly exaggerated. Thus, I used PureRef to set it as translucent and determined the approximate scale and perspective of part of the model in Unreal Engine.
I meticulously compared the original painting with my work to make necessary adjustments.
After determining the positions of the main building and other objects, I exported the blockout in Unreal Engine, refined the models in 3ds Max, and then imported the improved models back into Unreal Engine for further inspection.
Once no major issues remained, I began creating the main building's mid-poly model and other models to facilitate the subsequent high-poly sculpting in ZBrush. The method for creating plants was based on Victoria Zavhorodnia's tutorial, and I am truly grateful for her guidance.
Regarding model creation, I discovered several iconic models from "Kena: Bridge of Spirits" on ArtStation, and I found these two sculptures particularly interesting, providing an excellent opportunity to practice sculpting in ZBrush.
I won't delve into the separate modeling of the trees as it was my first attempt, and the results weren't exceptional.
Texturing
When painting in Substance Painter, our approach was to imbue the model with a level of detail that is visually appealing, striking a balance between realism and stylization. More importantly, we sought references, studying the techniques employed by other artists and learning from their work.
After completing the model and importing it into Unreal Engine, we needed to ensure a consistent style across the entire scene so that the model seamlessly integrated with the environment. We made further adjustments in Substance Painter and fine-tuned the map parameters in Unreal Engine, utilizing technologies such as RVT to unify the overall style.
In Unreal Engine, we experimented with several lighting systems and ultimately chose Lumen. While the Lumen lighting system significantly enhanced the scene, it also introduced challenges, such as causing the grass to appear overly dark. Through continuous experimentation, we identified effective solutions.
For those facing similar issues with using Lumen to stylize their scenes, we offer this advice: in realistic scenes, this method may not be suitable. First, enhance the quality of Lumen lighting in post-production. Second, disable Lumen's Screen Space Directional Occlusion. Third, enable Two-Sided Foliage in the material sphere.
Lighting & Atmosphere
I utilized Unreal Engine 5's Lumen to illuminate my scene. However, Lumen alone couldn't elevate the scene to greatness; additional manual lighting was necessary. I added numerous light sources within the scene to create a unified and harmonious visual experience.
For distant routes and vistas, I reduced the opacity of the fog to reduce blurring in the distant content.
For distant routes and vistas, I reduced the opacity of the fog to reduce blurring in the distant content.
Animation
To achieve dynamic fabric effects, I studied the production methods of experienced artists. Additionally, vertex drawing offered another approach.
Rendering
For rendering, I employed UE5's Movie Render Queue, which facilitated anti-aliasing and high-quality rendering. However, larger scenes incurred longer waiting times, during which I often turned to TikTok to pass the time. Below, I've shared some of my console parameters.
Conclusion
I would like to express my gratitude for taking the time to read this and for recognizing my work. I believe that I will continue to appear in your creative endeavors, bringing you even better, more challenging, and more creative projects in the future. Thank you.